About Me
"What you think you become, what you feel you attract, what you imagine you create." - Buddha
These profound lines have become the bedrock of my life, shaping my belief that we can reshape our destinies by mastering our thoughts and mind-set through a powerful daily routine.

However, this isn't where my story began.

From a frenzied, frustrated, and discontented businesswoman to a tranquil, composed, and fulfilled life coach, my journey has been an incredible rollercoaster ride. Within me, I held grand aspirations, dreams, and ambitions that burned brightly. These were not the run-of-the-mill dreams; they were dreams of a life that defied conventions and stood unique in the eyes of those around me.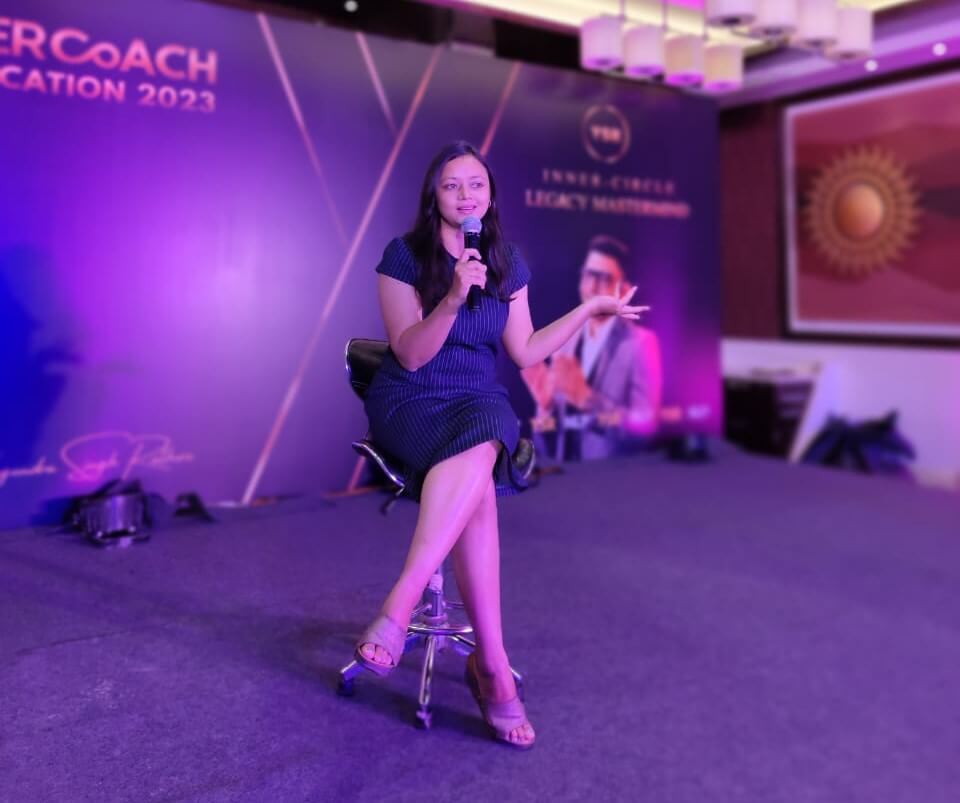 Originating from a family entrenched in the business world, my ideas were often brushed aside as unrealistic by others.

Post-graduation, I took the leap into entrepreneurship, establishing my own business and catering to my local community. But deep within, I sensed that my true calling lay elsewhere, beyond the confines of my imagination. Despite a comfortable income, a wonderful family, and a beautiful daughter, a feeling of hollowness persisted. From within, I sensed a lack of fulfilment, a dearth of accomplishment.

I yearned for a path that would allow me the freedom to spend time with my daughter while simultaneously pursuing a gratifying career that provided both emotional fulfilment and financial stability.

I'm a firm believer that the universe conspires to guide us towards our desired reality. In 2020, when the onslaught of COVID-19 compelled me to close my business, while others were adjusting to the new normal, I found myself submerged in introspection. "Why am I not happy?" I pondered.

In the midst of grappling with these thoughts, I encountered an ad proclaiming, "We help you effortlessly discover your life's purpose." Intrigued, I decided to explore this avenue, and it marked a significant turning point in my journey.

Under the guidance of a life coach, I unearthed my dormant potential and realized that transformation had to commence from within.

The journey from being a late riser to embracing a consistent 4 am wake-up routine, from favouring comfort to pushing boundaries to craft a fresh reality, and from an under-confident individual avoiding small-group conversations to evolving into a coach addressing vast audiences, was astonishing. I never anticipated this expedition, yet I navigated it deliberately despite the odds.

What propelled me forward? It was the discovery of purpose, the art of tapping into the subconscious mind's profound power and reprogramming it to work harmoniously in my favour.

My story is a testament to the fact that our narratives are mutable. The tenets of purpose and self-belief can trigger remarkable transformation. I've harnessed these principles to transcend from a life of disillusionment to one of fulfilment and impact. The journey has not only rejuvenated me but has also equipped me to assist others in their transformative endeavors.

In essence, my journey serves as a testament that purpose, intention, and inner change can fuel even the most unforeseen evolution.
OUR SPECIALISED PROGRAMS
REIKI HEALING

NLP(NEURO LINGUISTIC PROGRAMMING)

ORACLE CARD READER

LIFE COACHING

BUSINESS COACHING FOR MENTORS

MANIFESTATION AND LOA

INNER CHILD HEALING

HOOPONOPONO HEALER